We create spaces that empower brands by means of designing stalls and building exhibition
stalls and portable displays for Events, Exhibitions Stall Design and Brand Activation. Step Into a world of Modular stalls and custom build stalls to cater to all your event and exhibition stall designing needs. Our 3D stall designs and creative exhibition stall designs add value to your experiential marketing shows such as

Exhibitions, Tradeshows, Events, Conferences, Brand Activations and Retail

.
.
OUR PRODUCTS
Portable Exhibition Stands
NEWS STAND
Insta Monthly Digest
Global Illuminators, Canara Lighting glowing strong at PALM Expo
May 2015
Canara Lighting company, the veterans in specialized studio lighting equipment participated at PALM Expo 2015. Their key objective was to generate sales leads and maintain their brand image in the market. They reused their existing Expo Prestige kit.
Video Gallery
5 in 1 stall design using Expo Prestige Modular Exhibition Stall
Video demonstates 5 easy set-up exhibition Stall Designs using Insta Worldwide Group's ExpoPrestige™ Exhibition Stall System. ExpoPrestige™ can be scaled to create Exhibition stall Designs suitable to different floorplans – large scale Exhibitions as well small Activations stalls.

Blog
Why a Brief can make or break an Exhibition Stall Design?
Your exhibition stall is your temporary office at the venue. You need to put in adequate efforts to have a good stall design. To ensure your stall building contractor delivers a unique and creative stall, it is crucial to give him a good stall design brief. Avoid the pitfalls of vague description. If you want a specific stall design, your brief needs needs to be specific as well.
New Products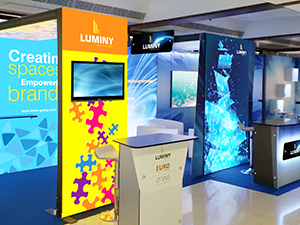 Luminy Backlit
Luminy is a first of its kind system that creates experiential spaces with backlit walls, roofs, wall mounted panels or free standing kiosks. When used in combination with other Insta modular systems such as Creeya, it opens up unlimited possibilities of creating brand communication ...
Testimonials
Get More Info
| | |
| --- | --- |
| | |
| Enter the above verification code | |
| | |
| | |
EXHIBITION STALL DESIGN, BOOTH DESIGN & FABRICATION FAQS