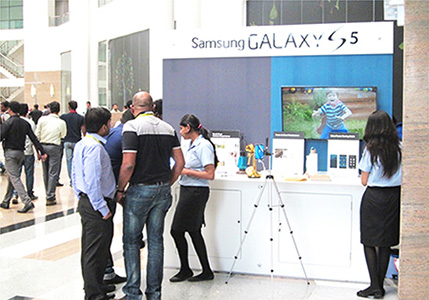 Mall Activation Samsung Galaxy S5
Challenge
Samsung′s 3 phase brand communication for Samsung Galaxy S5 in 11 cities across India.
Cost effective solution backed by Logistics, I&D and complete show services support.
Practical implications of designs and bringing their vision to life irrespective of multiple venue set up restrictions and I&D timelines.
Smooth execution of all events that needed to run simultaneously across multiple locations.
Solution
Custom set up in Phase 1 of campaign for 3 weeks in 2 prominent shopping malls in Delhi and Mumbai.
Over 120 mall activations in 11 cities across India spanning 6 weekends for Phase 2, using reusable Creeya™ modular kits...