Better Client Engagements through Effective Tech Day Solutions
Tech day is an organized platform for showcasing new developments and technological advancements of a company. It is a stage that offers learning and knowledge-based presentations for its target audience, thereby engaging maximum attendees. The presentations, product demonstrations and seminars in a tech day are all industry-specific that aim to impart information and spread awareness related to company's product and service offerings. Being the best tech day organizer and agency in India, Insta has a wide range of tech day solutions that ease up your event organization.

Why Choose Insta Solutions For Your Tech Day?
Product Demo Area and Product Displays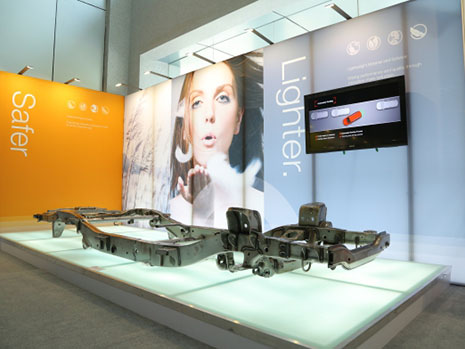 Being the best Tech day organizer and agency in India, we make specified product demo areas wherein the industry-specific seminars, conferences and presentations can be held. The specially-crafted Techday solutions are meticulously built for product demos and product displays, thereby ensuring an all-inclusive solution for your event.
GET IN TOUCH WITH US
| | |
| --- | --- |
| | |
| Enter the above verification code | |
| | |
| | |
Featured Work
Some Successful Projects
Delphi

Challenge Accepted

Showcase a balanced result involving consistent branding and product
display



Reusable and portable solution for multiple shows


Tight project execution timeline


Complete project management

Engaged

Creeya™ modular reusable solution


Product displays with branding


42 inches LED TV rentals


High-quality execution and consistent branding

Magna

Challenge Accepted

Ensuring a perfect and consistent quality branding across venues


Showcasing a balanced result between product display and branding


Quick and hassle-free setup


Full structure reusability for multiple shows


Tight project execution timeline

Engaged

Creeya™ Modular Solution + Luminy Backlit Solution


Entire project management


High-quality execution and consistent branding


Pre-show awareness

Siemens

Challenge Accepted

To build the entire marketing infrastructure within the working space
in a short span of time



Having no previous similar event conducted at such scale, Siemens
expected a new benchmark with the overall output



Special interest should be given to the different divisions of Siemens



Engaged

Insta created an entire theme with logo, punch line, brochure and
graphics correlating to the brand



A panel discussion space was created with live AV stream


Graphics projected the theme, 'Exchange, Share, Learn' in an
appropriate manner with the information on the divisions of Siemens



High-quality design elements were delivered
Looking for a Reliable TechDay Partner?
Talk to us!
+91-9167 246768