Exhibition Stall Design and Exhibition Services
We empower brands by means of turnkey solutions for exhibition stall designs and portable displays for Events and Brand Activation. With an experience of over 10 years, we specialize in stall design for exhibition and brand activation spaces.
If you have an upcoming exhibition, we can help you create concepts with our exhibition stall designers in Mumbai. Our in-house manufacturing, printing and execution team enables smooth execution to build your exhibition stall without hassles. Our creative exhibition stall designs add value to your experiential marketing spaces such as Exhibitions, Tradeshows, Events, Conferences and Brand Activation.
Our Services
Portable Exhibition Stands
Best Exhibition Stand Designer in India
If you are looking for best exhibition stands in India then your hunt ends here. Insta Exhibitions offers an extensive range of high-quality exhibition stands for your shows in India. The alluring stand designs help you in making a massive brand impression. Whether you want an exhibition stand in Mumbai or Delhi, we cater to your specific brand needs by being your most reliable
exhibition stand designer
in India. The highly-qualified stand designers put their best foot forward in designing world-class exhibition stands for your show in India. With 3D
exhibition stand design
facility, we help in offering best-in-class exhibition stands in India. Our experienced project managers make sure to provide you a worthwhile and hassle-free exhibition show.
News Stand
Insta Monthly Digest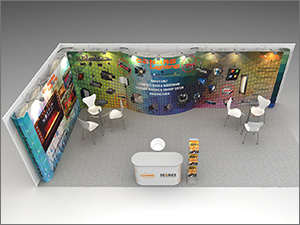 Global Illuminators, Canara Lighting glowing strong at PALM Expo
Canara Lighting company, the veterans in specialized studio lighting equipment participated at PALM Expo 2015. Their key objective was to generate sales leads and maintain their brand image in the market. They reused their existing Expo Prestige kit.
Video Gallery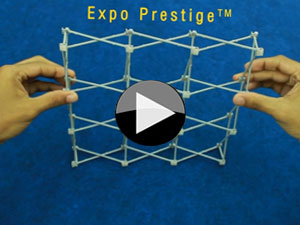 Expo Prestige – Most convenient & easy-to-use modular portable exhibition stall
If you are confused on picking the best exhibition stall for your next show then Expo Prestige is your perfect pick.
The most convenient and easy-to-use modular portable exhibition stall, Expo Prestige ensures to simplify your exhibition stall design & building.

Blog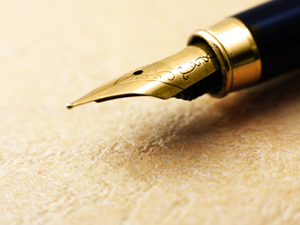 Why a Brief can make or break an Exhibition Stall Design?
Your exhibition stall is your temporary office at the venue. You need to put in adequate efforts to have a good stall design. To ensure your stall building contractor delivers a unique and creative stall, it is crucial to give him a good stall design brief. Avoid the pitfalls of vague description. If you want a specific stall design, your brief needs needs to be specific as well.
New Products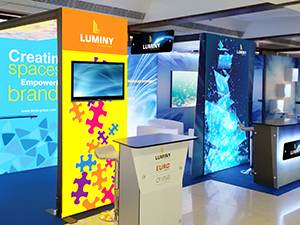 Luminy Backlit
Luminy is a first of its kind system that creates experiential spaces with backlit walls, roofs, wall mounted panels or free standing kiosks. When used in combination with other Insta modular systems such as Creeya, it opens up unlimited possibilities of creating brand communication ...
Get More Info
| | |
| --- | --- |
| | |
| Enter the above verification code | |
| | |
| | |
Custom Exhibition Stall Design and Build
Our custom built exhibition stall designs combine the creativity of a unique space concept that is aligned to your marketing strategy with customized exhibition stall features. Our complete solutions for
exhibition stalls
and rich experience helps deliver the right choice of exhibition stall design at the right place, time and a competitive budget. You can be rest assured to have the best show ever. Our in-house team of
exhibition stall designer in Mumbai
understands specific needs of different industries and following a detailed briefing from you will create concepts to cater to your show objective. On finalizing a concept with you, we have a dedicated execution team that is allocated for the exhibition stall project. This team plans and executes the entire
exhibition stall
from design to bring it to reality in the pre determined time frame. In some cases, we create a scaled model of the exhibition stall to enable you to walk through and make any last minute changes.
Portable and Modular Exhibition Stall
If you are looking for multiple exhibition stalls with zero wastage, you may choose the portable and modular exhibition stalls from Insta. Here we have a range of high quality and reliable pre engineered systems to cater to your specific requirements to the fullest. Our team of exhibition stall designers in Mumbai is trained and especially skilled to use the modular systems and build exhibition stalls that have a customized look and feel but a standardized structure as the backbone. This enables you to reuse the same structure for multiple exhibition stalls by reconfiguring them for different exhibition spaces, thereby reducing your overall expenses per show. Once a
stall design for exhibition
is made based on a detailed brief from you, a pre show built up is done at our works before printing the graphics. This enables you to walk through the
exhibition stall
and tweak the design wherever necessary and possible. Once the design is finalized and graphics are printed, the entire exhibition stall is packed in dedicated cases and dispatched to the exhibition ground. Our team of trained experts can build the exhibition stall for you and hand it over at the eve of the show.
International Exhibition Service
Is the world your playground for marketing? If you are participating in a show outside India, we can provide complete solutions for your overseas exhibition stall. Insta-Group is proud to have a network of trusted audited exhibition stall building partners across 40 countries. So we can create an
exhibition stall design
for your space in an exhibition anywhere in the world and get it built by our worldwide network. This makes the entire process of exhibition stall hassle free for you and keeps the costs in control. If you already have a design for an international show, we can still provide execution service for your
exhibition stall design
across the globe. What's more! Insta- Group has fully owned subsidiaries in Middle East, Western Europe and North America. This helps provide local support and knowledge including warehousing of portable exhibition stall kits wherever deemed fit for multiple shows across geographies.
Stall Design Ideas
With a dedicated and full-time exhibition stall designer's team, Insta strives its best to offer innovative ideas for exhibition stalls. These experienced and highly skilled designers put their best foot forward and craft best exhibition stall designs unique to your brand. The distinct brand concepts are meticulously converted into creative
stall design ideas
that help your exhibition stall to become the showstopper. Whether you are looking for a custom exhibition stall design or modular, we can offer you the best-in-class exhibition stall design ideas. At Insta, you can be rest assured that your brand's USP is creatively modified into exhibition stalls ideas thereby helping your brand emerge from your competition. By carefully understanding your brand needs, the designers at Insta adhere to specific show requirements and get the most innovative ideas for exhibition stalls.
FAQ's on Exhibition Stall Design