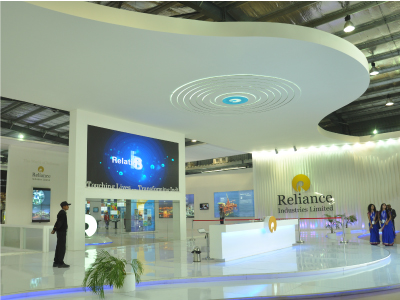 Reliance Industries Limited
Challenge Accepted
Reliance was expecting a 'larger than life' concept which would leave a deep impact on visitors.
There should be respective importance given to the different divisions in terms of visibility of its branding.
At no given point, the brand value and guidelines of Reliance should be compromised.
Engaged
Right from the initial stage, Insta's approach towards the project was very innovative and grand.
Insta created a concept with 'Ripple Theme' as Reliance touches lives of everyone directly or indirectly.
Given the necessary importance to all the divisions and a special importance to the founder 'Dhirubhai Ambani' and CEO 'Mukesh Ambani', Insta assured it checked every aspect of the company.
By using the right product combination, such as Luminy™, Creeya™ in Custom Built Stand, Insta successfully created the entire pavilion flawlessly.
Scale
Insta created an extravagant Custom Built Stand in an area of 2232m2.
Result
Insta became successful in concept creation and execution in prescribed time with high attention to details.
The impression and attention of the 'larger than life' concept for Reliance was well noted and appreciated.